| | |
| --- | --- |
| Anaheim Automation Wiring Diagram | Recommended wiring for the Anaheim Automation 'Blue Boxes'. |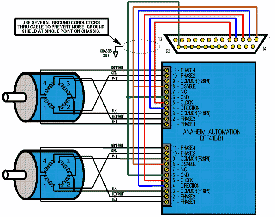 Click the image for a full size wiring diagram. This diagram shows how to wire an IBM PC parallel port to an Anaheim Automation DPF41BB1 (4) axis motor controller for the parallel port version of OPCS.
Using anaheim drives can greatly simplify motor wiring. Here's an example of how simple the wiring to can be for an aerial head printer with fader, using LPT1 to drive the motors. Home sensors not shown here, but are often driven by LPT2.