Compaq Deskpro 2000: How to enable BIOS Setup Menu ('F10=Setup')
I posted the following on the HP support website, but I'm including a copy here in case my post there goes stale.

Compaq Deskpro 2000 Other

What follows are some screen shots from the process. Here's what you want to see when the Compaq Deskpro 2000 BIOS boot screen comes up, with the F10=Setup at the lower right corner of the screen: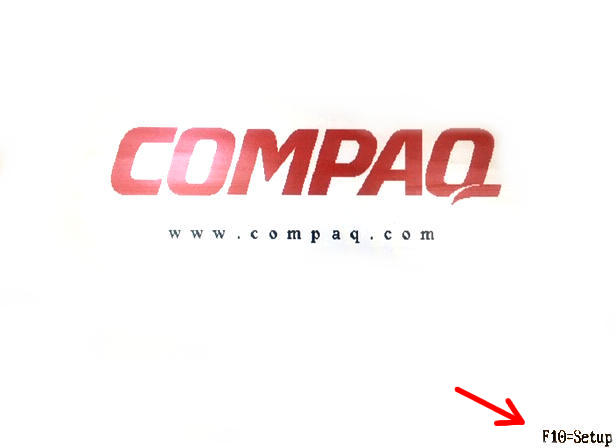 ..but if you're reading this, you're probably NOT seeing that, and need to use the above instructions to install the BIOS setup partition on your hard disk, because that's really the only way to see it on boot.
After you've used the Diagnostics Disk, Setup Disk #1, and Setup Disk #2 to install the 6MB Diagnostics partition on your hard disk, and created a second partition for your operating system to boot from, DOS 'fdisk' will show the partition arrangement as: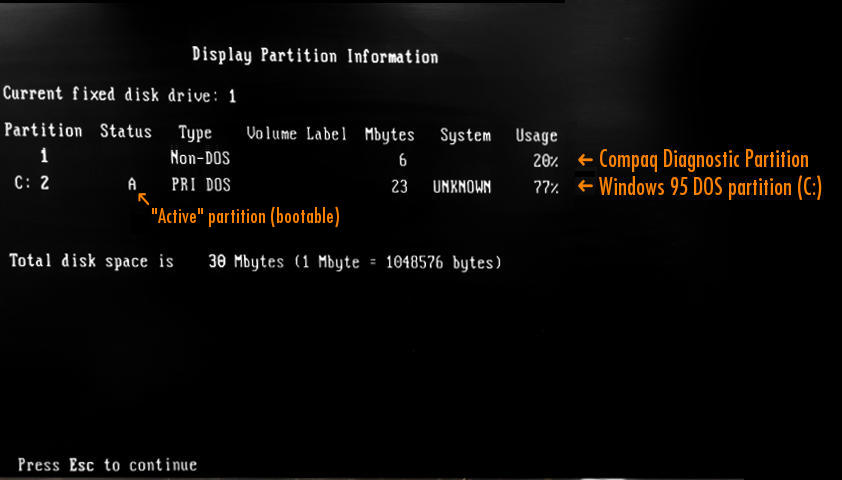 Partition #1 is what the Diagnostic disk created on the blank drive; a 6MB partition for the BIOS Setup utility. This is what the BIOS looks for on boot to see if it can show the little "F10=Setup" message or not.
Here's the first screen you see when you hit F10 during the BIOS boot: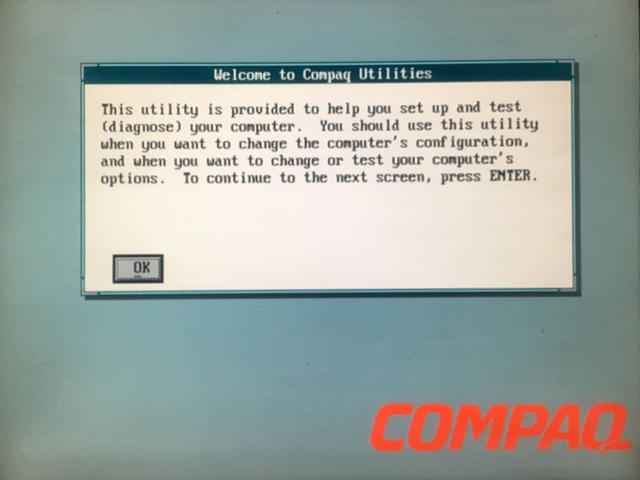 After you click past "OK", you'll see these choices: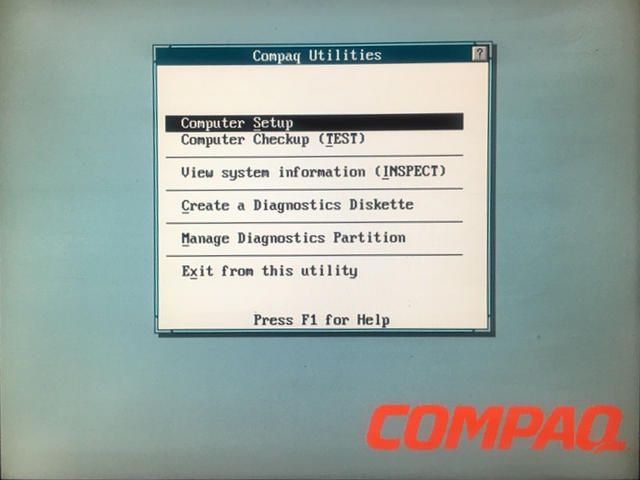 By the looks of these screens, it would appear they're using a miniature version of Windows 3.1 here, probably one of the reasons the Compaq Setup software takes up 6MB on the diagnostics disk partition.
Anyway, if you click "Computer Setup", you access this screen to choose between the machine's built in devices, and 'add in' devices, which I guess is a summary of the probed PCI devices: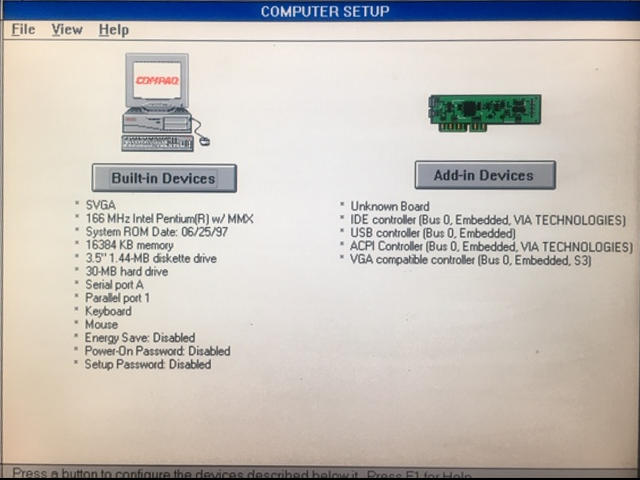 If you choose "Built-in devices", it shows this screen: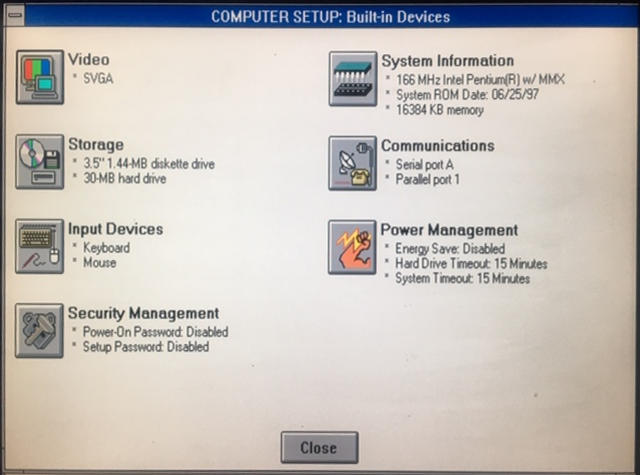 The BIOS (without setup) seems pretty good at detecting hard disk changes, so for me the menu of interest is not "Storage" so much as it is "System Information", where I can set the clock for instance: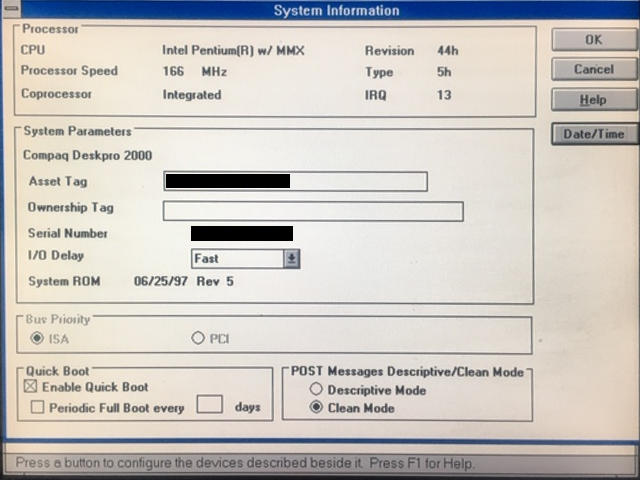 At the upper-right, there's a "Date/Time" button where you can set the RealTime Clock.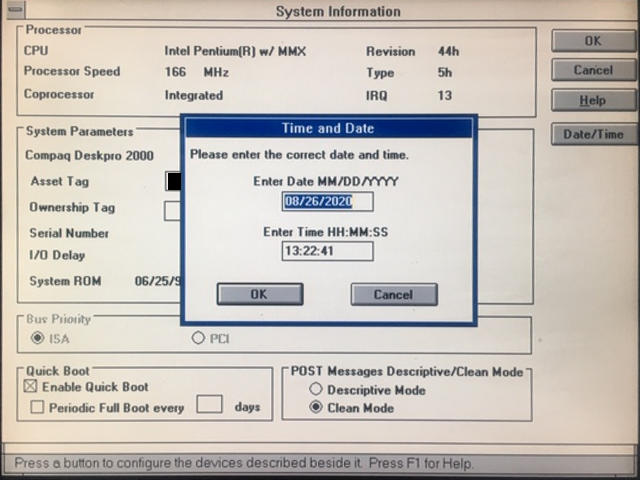 Anyway, that's it for the screeshots.
If you have any things to add, you can email me: erco@seriss.com and I might be able to respond, depending on circumstances.
---
You are visitor number 5019 since 08/26/2020.