Fl_Gel_Tabs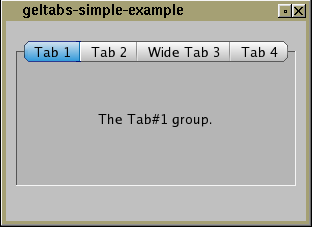 A tabs widget for FLTK 1.x similar to the aqua tabs widget found in Mac OSX. For those who need tabs, and prefer Mac's approach to tabs.

The Fl_Gel_Tabs project was designed so as to either be merged in the FLTK 1.x main tree, or just installed as a subdirectory of your individual project. The latter is recommended.

Here's a snapshot of the current version's documentation, and links to an example application.
Downloads
There are release notes and Readme files that come with the source. You can download the latest version:

| | |
| --- | --- |
| Questions? Bugs? Send mail to: | |