Fl_Tree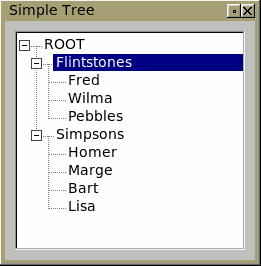 A tree widget.

Comes with full documentation. Coded so as to hopefully be added to the FLTK core someday. (This is up to the FLTK maintainers.)

UPDATE April 10, 2010: In 2009 this widget was added to FLTK 1.3.x, which makes this page obsolete. For the latest version of this widget, see the FLTK 1.3.x version of Fl_Tree. This page remains frozen at version 0.73 for backwards compatibility to older FLTK releases. All newer development of this widget will be in the FLTK 1.3.x release.

There's a snapshot of the current version's Fl_Tree documentation, a simple example application, and some screenshots.

The Fl_Tree project was designed so as to either be merged in the FLTK 1.x main tree, or just installed as a subdirectory of your individual project. The latter is recommended.
Downloads
There are Release Notes and Readme files that come with the source.
You can download the latest versions (SEE ABOVE RED NOTE):

| | |
| --- | --- |
| Questions? Bugs? Send mail to: | |