---
Using Onrush
---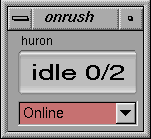 'onrush' lets users easily monitor and control their local processor's render activity, including setting the online/offline state of the render queue on their machine.

Just run 'onrush' from a shell prompt.

In Unix, you can make a desktop shortcut to /usr/local/rush/bin/onrush,
or under Windows, make the shortcut to c:\rush\bin\onrush.exe

The little interface should pop up, and let you control the online/offline state of the daemon.



When Processors Are Busy
This example shows how the onrush GUI looks when 2 processors are busy running frames.



Checking What's Running
If processors are busy, you can click on the 'Busy' button to get a popup screen showing who is running what:



Kicking Renders Off Your Machine
Here, the use of 'getoff' disables the outside appropriation of local processors by dumping the rendering frames immediately, freeing up the machine:

The processors should free up fairly quickly, and onrush will subsequently show the processors become idle:

If you don't want to kill the rendering frames right away, choose 'offline'-- this will prevent new frames from starting while allowing the running frames to complete.