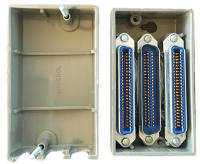 This device is not a phone, but used for connecting multiple 1A2 phones in parallel on a single 25 pair wire run by chaining M-F ended 25pair cables using these boxes at each point where a phone needs to be.

The device itself has a single male plug connector ("P") surrounded by two female connectors ("C"), making it possible to chain these devices with M-F cables. The M-F cable would started at the KSU, its male end attached to the KSU's female connector, and the female end would connect to the center connector on this device. The male-ended phone connector would connect to one of the female connectors on the device, the other being available for another M-F cable to chain on to the next device.

See the wiring diagram on this page for an example of how to use these. They are also used for chaining ComKey416 phones.